During 2016, more than 44,000 people in Malta suffered from material and social deprivation; while throughout the European Union 75 million people had to endure this fate. This emerges from the latest eurostat publication. The material and social deprivation rate in Malta for 2016 stood at 10.5%, 5.5 percentage points lower than the EU-wide rate of 15.7%.
Comparison Amongst Different European Countries
Within the European Union there were 17 countries in which the material and social deprivation rate was higher than Malta, while the other 10 countries managed to achieve a lower rate. In 2016, material and social deprivation was most prevalent in Romania  and Bulgaria, which registered a rate of 50% and 48% respectively. They were followed by countries where 1 in 3 persons was affected: Greece (36%), Hungary (32%) and Lithuania (29%).
The lowest rates of material and social deprivation were registered in Sweden (3%), Finland (4%), Luxembourg (5%), and Denmark (6%).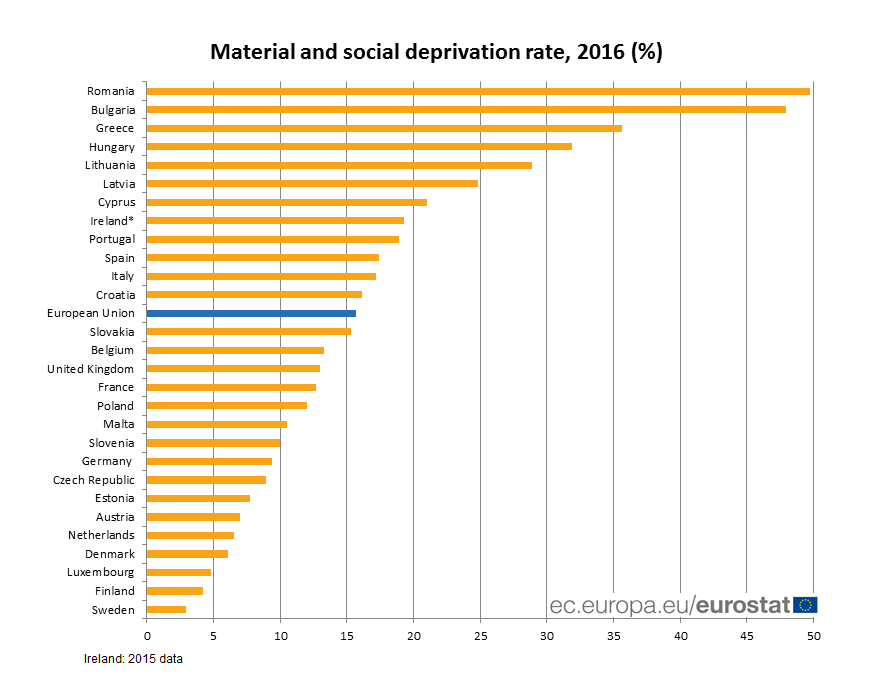 The Poverty Trend
Malta's 2016 material and social deprivation rate of 10.5% marked a decrease from the 15.3% registered during the previous year. This furthers a positive downward trend as in 2014 the share of materially and socially deprived people stood at 22.9%, amongst the Maltese population. The EU(28)-wide material and social deprivation rate in 2016, also decreased compared to 17.2% in 2015, and 19.3% in 2014.
Material and Social Deprivation Explained
People are considered to be materially and socially deprived if they cannot afford at least five items out of this list:
face unexpected expenses;
one week annual holiday away from home;
avoid arrears (in mortgage, rent, utility bills and/or hire purchase instalments);
afford a meal with meat, chicken or fish or vegetarian equivalent every second day;
keep their home adequately warm;
a car/van for personal use;
replace worn-out furniture;
replace worn-out clothes with some new ones;
have two pairs of properly fitting shoes;
spend a small amount of money each week on him/herself ("pocket money");
have regular leisure activities;
get together with friends/family for a drink/meal at least once a month;
have an internet connection.
The Link between Education and Poverty
In all EU Member States, a very strong correlation between the material and social deprivation rate and the level of education of the people affected was noticed. The rate is highest among people with low (lower secondary or less) education level, standing at 25%  in the EU as whole. The material and social deprivation rate drops to 14% for those with upper secondary education and is even lower (5%) among people with higher (tertiary) education.